This Tucson dealership calls it 'a great partnership'
Todd Helmick, Marketing Manager from Royal Automotive in Tucson, AZ, shares what he likes about CarChat24 with VP of Sales, Jeff Sterns, during this interview at Digital Dealer 21, during August 2016, in Las Vegas.
He told Sterns that dealers are making a tough decision when they choose a chat provider, and he is very pleased with his CarChat24 live chat results.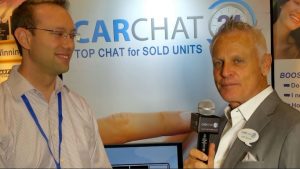 "Conversion is very good. As a first-party source…on our website, we convert very well with your product – it's been a good thing for us. You guys rank up there (with leads), you're right there behind our first party forms that are filled out on our website," said Helmick.
He explained that CarChat24 is engagement tool on his website. "If you can stop a consumer from going on your website, getting information and leaving…if you can at least pause them and engage them, that's a win in my book".
"The thing I like about CarChat24 is the support is there…great guys like you," he said to Sterns. "It's a great partnership – we don't really have to do anything – you take care of it all!"
Call, chat, or text us today to schedule your web demo.