Whether you use software and your own team to communicate with your dealership website visitors via live chat or use a hosted, full-service option, there are three major components that can make the difference between success and failure.
If you choose a software or service that can help you maximize these steps, you are virtually assured of both an increase in auto sales leads, and in your monthly sales count. These steps include:
Ensure a seamless and simple Live Chat visitor experience

Leverage

Live Chat

web integration tools
Manage the

Live Chat

user experience
If you can make the most of each of these pieces of the puzzle, you can hedge your bets for a smooth transition for your sales team, a great experience for your customers, and most importantly, an increase on your overall internet ROI and lead conversions.
Visitor Experience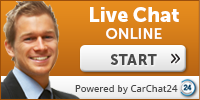 Two parts of the visitor experience dictate how well your customers enjoy their chat opportunity with your dealership: the human connection, and physical interface. The human connection is important because that is what makes the difference between beginning to build client rapport and merely offering an alternate way to complete your INFORMATION form.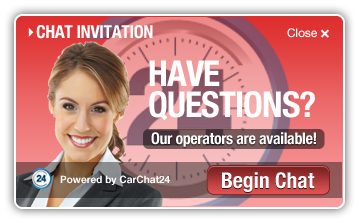 This includes a rapid response time to an inquiry, scripts and amount of knowledge at the fingertips of your staff or hosted service operator, and the follow-up experience when a lead is generated.
The physical interface includes the appearance, timing, and location of the CHAT invite icons and popups, as well as the speed and usability of the popup chat window. Our Live Chat experts can leverage the success from thousands of chat inquiries to help you set up these elements
Web Integration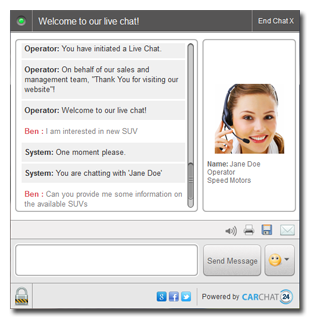 Live chat on your car dealer website can be a key piece of your internet marketing strategy, so a smooth interface and customer experience that makes your prospect comfortable with the process is paramount. We encourage our dealers to select live chat icons that match their website design. Setting up timing and frequency of pop-ups that tie to specific behavior triggers to grab someone's attention without being a nuisance is also extremely important.
Once a shopper has initiated a chat conversation, the chat interface for the shopper should be clean and simple, and ideally includes dealership branding. Assuming effective scripts are used for the conversation, a lead – and possibly an appointment – will result. You want this data seamlessly pushed to your auto dealership Customer Relations Management system. This CRM data can even include a transcript of the entire chat conversation.
Manage Users

Finally, the last thing you want when you are adding another interface and user dashboard to your dealer website strategy is a complex learning curve for your staff. You want an interface that has been designed to make setup and updates simple and stress-free. Adding or changing users, adjusting roles, and grouping users into departments and groups should be quick and simple. Even options for shifts and specialized skills should be available to maximize Live Chat effectiveness, ensure a smooth user experience for the customer, and convert to a lead.
The purpose of your dealership website is to generate leads and appointments, and a well-executed Live Chat software or service can not only help make your ROI look good on the monthly statement, but increase car sales, which looks good on the bottom line.